The football world is full of crazy people. Syeah, crazy Can you imagine having a collection of t-shirts that has been valued at a million dollars? That's what Javier Maluf, an Argentine who has lived in Doha, Qatar for 17 years, and is Asia's number 1 collector of jerseys, is proud of.
Enner Valencia and Agustín Delgado, Ecuador's top scorers in the World Cups
Read more
A pilot by profession, but he is a football lover. He will have an exhibition of his 1,200 shirts at the Hotel de la Tricolorin an exclusive event.
Javier, a River Plate fan, has original shirts from Diego Maradona, Lionel Messi and a special collection of Carlos Tenoriohis friend.
"People are crazier than you. A guy wanted to give me 25,000 for Diego Maradona's shirt. He told me to put the price on it, but this is priceless. They have put a price on my collection, they say it is reaching a million dollars, but I am not selling it, I want more shirts", says Javier, who is in the rush so that all the shirts are ready for the exhibition.
It even shows shirts from countries that no longer exist, such as Yugoslavia. Diego Maradona's has a special history: it is from the time when they were made of cotton, something that has gone out of style.
Messi's was obtained by a friend of his team. He has everyone's signature and it was when La Pulga wore the number 18 number. To obtain them, he uses friends, acquaintances and players he knows. Or buy them.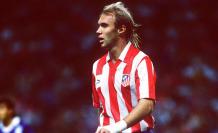 Gerhard Rodax, former Atlético de Madrid player, dies at 57
Read more
He maintains that it is a hobby that has no price, a vice which means spending good money.
Maluf is crazy. She has a million dollars worth of t-shirts, but the one from Ecuador is missing. He says that after he plays against Qatar, he hopes to have her and he used EXPRESO to reach the players: "I want the shirt of one of you guys. It's for my collection. Since the 2006 World Cup I haven't had one from Ecuador", says Javier.
His relationship with Ecuador began when Carlos Tenorio lived in Doha and in 2006 the Demoledor gave him his shirt and also those that changed with Costa Rica and Poland.
"Carlitos is a friend, here (in Qatar) everyone loves him. He is a great human being. I have their Germany 2006 jerseys", the Argentinean father of two says proudly. JR