It's been a few weeks since eFootball 2022, the spiritual and free successor to PES, has been with us. It came with many changes, with the idea o
Analysis of eFootball 2022. The worst is on the pitch
It's been a few weeks since eFootball 2022, the spiritual and free successor to PES, has been with us. It came with many changes, with the idea of ​​being a free-to-play proposal with cross-play between all platforms (from the new generation to mobile phones) and with a path to be developed that should build a solid and varied bet. That the game I was going to be very sparing in departure modes and options, we already knew – It does not mean that it cannot be criticized in an analysis, on the contrary – but the worst was yet to be seen on the pitch. Where Konami managed to turn a difficult situation around, now it's back from scratch. Because eFootball, beyond its scarcity of options, is a bad soccer game.
From the start, the Konami title comes with two options: to be able to play offline with nine teams. Namely: United, Arsenal, Bayern, Juventus, Barça, Flamengo, Santos, Corinthians and River Plate. Against friends or against two levels of difficulty, juvenile (a pointless ride) and Crack (not too demanding, but with a little more difficulty). The other option is Events, a mode to play online against people from all over the world and all platforms in which we choose a team and have to overcome challenges to get rewards, such as winning a match of three or winning two matches of three. Challenges that change periodically but between one and the other, we will not be able to change the team we have chosen. The rewards, GP points that we can surely invest in future modes. Strangely there are teams that are not in the friendlies but that are known to be licensed in the game as the Roma, Lazio, Napoli, Atalanta, Celtic, Rangers or Zenit. In fact, the first match we play in the opening game is an Argentina-Portugal, but then we can't use those teams.

The output is poor, both in options and in presentation. Two concise modalities, lack of basic options to play friendlies online, teams present only in one of the places … As we said, that this was known does not exempt a hasty launch from criticism when it was promised, two years ago, that what they were going to Seeing our eyes was far superior to the above. In theory, for this we had a PES 2020 update last year, because they were working on a revolution. It has not been like that, and the decision to release the game in this state can take a lot of toll.
And when the ball rolls …
But the worst is on the pitch. PES is a saga that in recent years had achieved its own gameplay, personality and a different but very valid way of recreating virtual football. A slower pace, but fluid animations, realistic crashes, a credible ball, good goalkeepers (depending on the year) and, in short, the feeling of a football match like we haven't had for a long time. All this has gone to hell, and taking into account how many years it has taken to get here if we look back from PES 2008, it is doubly painful.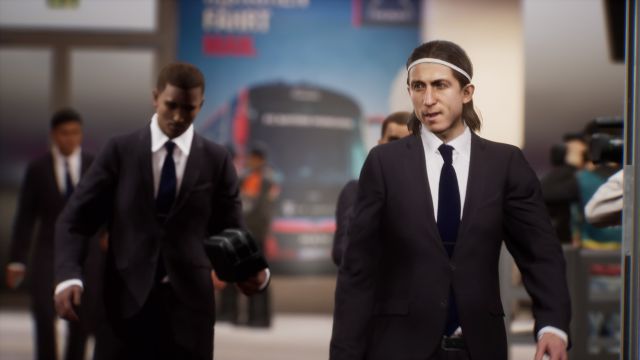 The main reason is with the change of game engine and the jump to Unreal Engine. Wanting to adapt the experience to all devices has meant leaving behind a series of improvements and evolutions achieved during several installments that were key so that, in different years, it became a playable benchmark despite not having the licenses of others. And this starting over is dramatic, because it offers everything we wanted to avoid. Starting with some players who react late to our commands and what happens on the screen. Nothing is synchronized.
It is what we have noticed the most during our matches in the game, the inability of players to show that they are plugged in in what happens around him. On the one hand, because they take time to react to our commands, as if there was a small lag between our actions with the command and its response. It is something exasperating, not only because it is difficult to play fast football with one or two touches, but because absurd situations are generated in which quality players like De Jong need a world to change direction or move the ball from one foot to the other. . Enough time for you to despair while watching your opponent steal it from you. And it is something endemic, of the game system.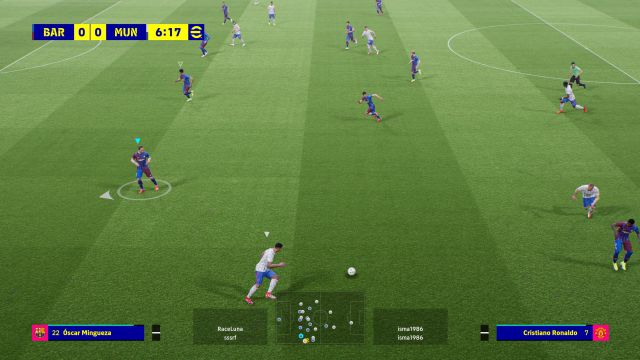 Disconnected players
But to this is added that his AI is very poorly polished. Players who pass the ball a few centimeters to them, do not arrive and after a few seconds they make a false reaction to correct their error. Or centers that, although they pass close to the defense, they will end up touching the ball with their back because they have not been able to position themselves in front of the ball. In some games we have cleared more balls like this, from the back, than on purpose. It says a lot (and at the same time little) about the game.
AI is problematic too in attack situations. Not only because of the slowness in the turns, a roughness that has nothing to do with offering a more leisurely football (as has been done with success in the last PES) but with an alarming lack of fluidity; the problem comes when you throw high passes into space and the players who are unmarked slow down in the middle of the race. No, it is not to avoid the offside, but because they have decided to stop who knows why. Many actions are not culminated by this, by an unexpected reaction that is not consistent with the play.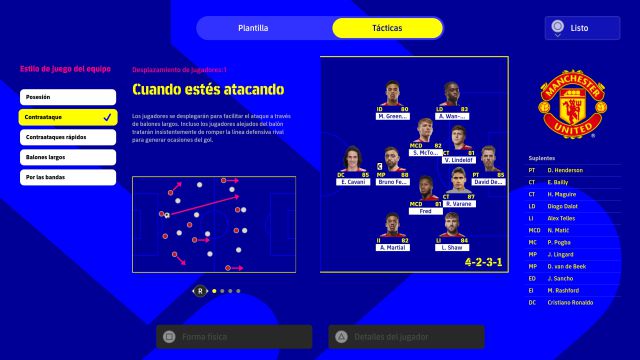 To all this, the physics and impact engine It is also very far from what has been built to date, with little animated crashes, jumps that no longer have that realism when it comes to getting upset, rebounds that until recently were more from other sagas than from PES … Nothing has just flowed or nothing ends to function quite well during a match. When it seems that, despite everything, the slowness and the unforced inaccuracies, he leaves, seeing interesting things – some controls, some goalkeepers' saves -, it is when a situation appears that reminds you that this is not up to par. it should be. Even if it is free.
Little football
In general, the feeling that eFootball 2021 leaves is that of football, it has little. The matches are not pleasant because the options, in addition to being limited, are full of potholes along the way in the form of poor behavior and an alarming lack of fluidity. There are traces of what we were able to enjoy in the last PES, but they are few and it shows that something has broken base. It seems like it, but it's not the same. Not even close. Because to the string of unlikely situations we need to add the goalkeepers to clear a ball, with the foot, in a one-on-one and within the area. And that when it comes to stops and departures bypass, they are the ones who best endure the type. If we add complicated decisions such as the fact that we cannot press with more than one player of our own free will (L2 now serves for us to press with our prey mode player), less effective (and robotic) dribbles than they already were and few options tactics for now …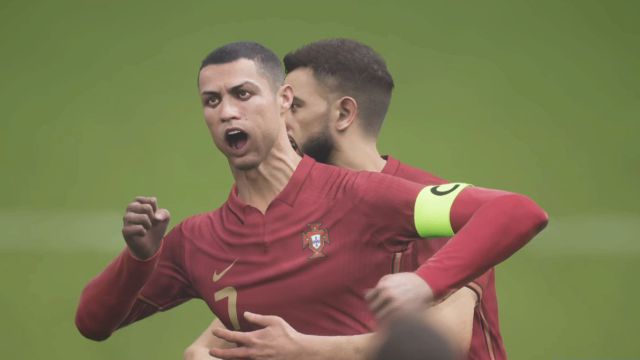 We just need to add something about a audiovisual section which also takes steps back, not in animations and physics as we have commented, but also in a recreation of the players debatable at the facial level (it is not necessary to talk about the memes), as well as some comments by Carlos Martínez and Maldini who, like We have been warning for a long time, they greatly miss the level of both journalists in real life. The game, in short, does not improve what we got with the last update of PES 2021. And that does not apply only to the technical section.
CONCLUSION
eFootball 2022 has worsened everything we had, which was a lot and good, from the last installments of the PES saga. And it has done so after two years of development waiting for this moment, that of the supposed evolution. The paucity of modes, teams and exit options is open to criticism (to come out like this, it is better to have waited), but the worst is on the pitch. The jump to Unreal Engine has broken the playable base that so amazed many of us, with players who react late and badly, a very limited AI in attack and defense, unlikely situations in each game and the feeling that nothing flows as it should to the players. controls. The next updates, starting with one at the end of the month, and the arrival of key game modes may change what we have on the table today. But until then, what seemed like a brave decision is, to say the least, reckless. Hasty and reckless. The PES fan did not deserve something like that, because not even the fact of being free can justify it.
THE BEST
On paper, the idea of ​​a playable base like PES in free format can be a good alternative
That the next updates can only get better
WORST
Everything achieved at the playable level in the last installments worsens
Blatant errors of AI, physical …
Shortage of exit equipment, modes and options
At the audiovisual level, it lags behind its own legacy and the competition
Have a product of this type after two years of waiting
3
Bad
The idea was good but it has been carried out in a disastrous way.