The Isla Bonita will once again host boxing matches, after years of lethargy in this contact sport, starting with an evening that will take place o
The Isla Bonita will once again host boxing matches, after years of lethargy in this contact sport, starting with an evening that will take place on August 13 at the Camilo León Sports Center in Los Llanos de Aridane. This is the first of several dates, promoted by the palmero fighter José Antonio Martín Reis, better known as Tato Primera, who has created the promoter La Palma Boxing -the first of its kind in the island territory- as an umbrella for the celebration of events throughout the year.
After reaping victories in international events, both boxing and mixed martial arts (MMA), the fighter from Aridan will also be the protagonist of one of the main dishes of the night, as will Cristian La Roca, a boxer from Palma based in Tenerife. They are joined by the duel between Diego, a soldier based in Fuerteventura and a long amateur career in Italy, with Mattar, who was champion of Spain, who currently resides in Gran Canaria.
On the other hand, they are part of the cast of boxers who will participate in the evening of August 13: Fran, Alberto El Chino, Alejandro, Albert, Mario, Enzo, Yasiel and Óscar, from La Palma; Brian and Hector, from Tenerife; Cristian González, from Gran Canaria; Neo Strozza, Tomás and Andy, from Fuerteventura; Santos, from Barcelona, ​​and Manuel Diagarra, from Gijón.
About the development of this evening and the subsequent ones, whose information will be released in the near future, Primera declares to feel "joy" for the reappearance of this sport in public forums. "It has never completely disappeared, there have always been people who have continued to practice it, but it is the first time in history that we have professional boxing on the Island, and I think it is something we should be proud of," he says.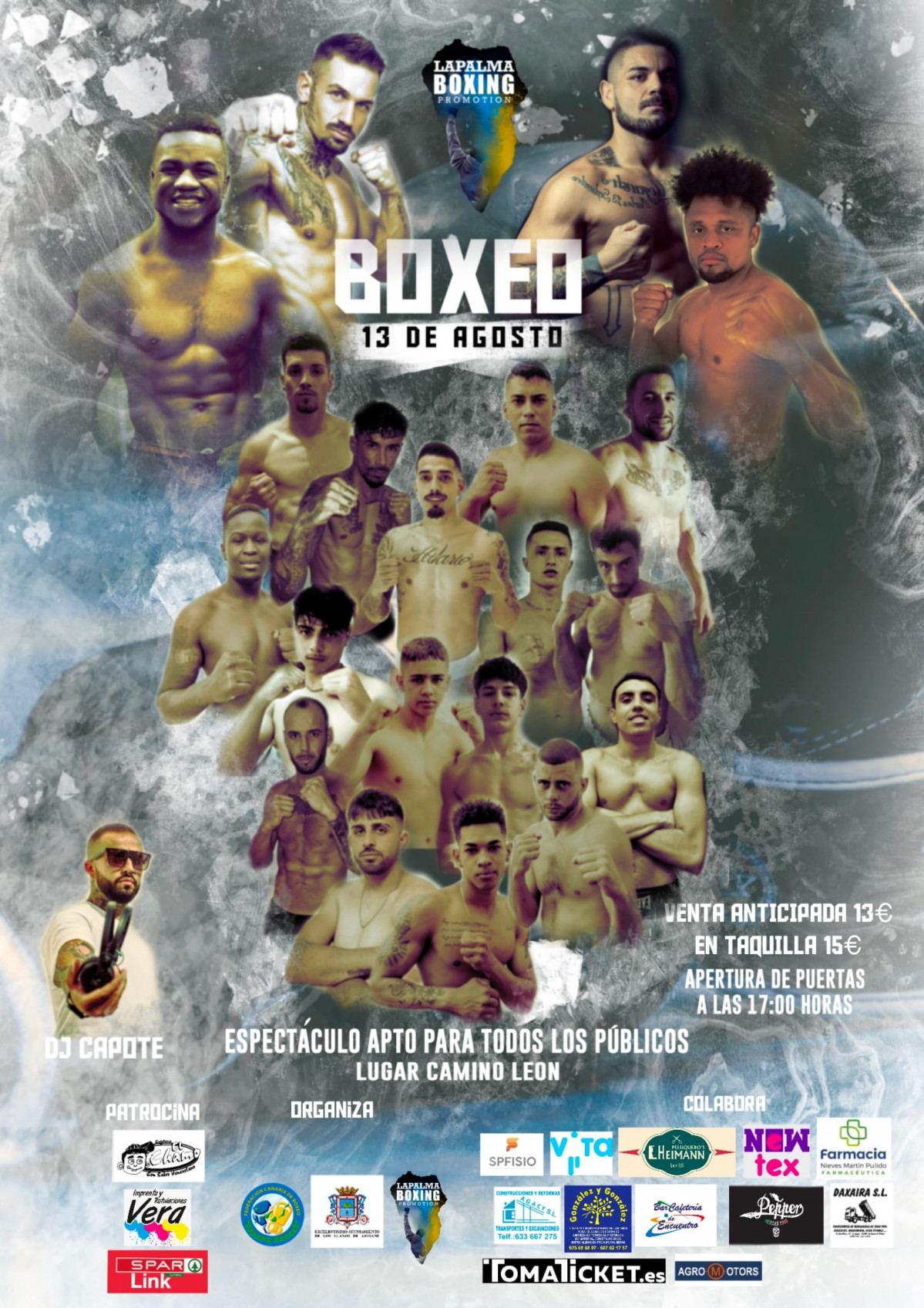 Likewise, it expresses its intention that this modality can grow, to the point that "a circuit is created that stops at different points of La Palma, with the aim of forming a school and people can learn more about this sport. , its philosophy and values. "It's not just hitting each other; It comes with many teachings that can be applied to daily life, and that is what we want to convey, "he clarifies.
That is why, he says, he is "grateful to the institutions, both public and private, that support the celebration of this first evening. We also hope to have the support of all the palm growers so that the project goes ahead". Specifically, it refers to SPAR La Palma, Cafeteria El Chamo, Imprenta and Rotulaciones Vera, Transportes Fran, the Los Llanos de Aridane City Council and the Canarian Boxing Federation, apart from the organizing entity, La Palma Boxing Promotion. "Without all of them it would not be possible," he concludes.
In addition, as collaborators, there are SP Fisio, Vita Fitness Center, Heimann Peluqueros, NewTex Sports Store, Nieves Martín Pulido Pharmacy, Construcciones and Reformas Agacy SL, González and González, Bar Cafeteria Punto de Encuentro, Pepper Mexican Food, Daxaira SL, TomaTicket and AgroMotors.
POINTS OF SALE
All those interested in attending the event will be able to get their tickets, for a price of 13 euros, at the authorized points of sale: in Los Llanos de Aridane, at EuroSpar Mederos, SP Fisio, Vita Fitness Center, Cafeteria El Chamo, CFC La Palma, JC Fighter and CrossFit Arión; in Santa Cruz de La Palma, at SPAR El Puente and VKR Gym Muay Thai Gym; in El Paso, at NewTex Sports Store; In Tazacorte, at Tazafit Municipal Gym; in Tijarafe, at SPAR Tijarafe, and in San Andrés and Sauces, at SPAR Los Sauces.
Similarly, they can be purchased through the online platform www.tomaticket.es or directly by contacting some local boxers: Tato Primera (@tatoprimera, 667 985 003), Alberto El Chino (@_koctehypka_), Yasiel (@ yasiel403), Frank (@frank.2_6), Alejandro León (@alejandro_leon96), Enzo (@enzolamicella) and Óscar (722 156 514).
From the organization they point out that the cost of tickets at the box office will be 18 euros, and the doors will open at the Camilo León Sports Center in Los Llanos de Aridane from 5:00 p.m.