The mixed martial arts league, UWC, has become the home of Ecuadorian fighters who seek to boost their careers, and thus perhaps, like Michael Morales, get a contract in the UFC, the most important company in the world. of this sport discipline. Morales emerged from the Ultimate Warrior Championship (UWC) company.
3 Ecuadorians will fight this Friday in Mexico on the billboard of the UWC 29 mixed martial arts event
Read more
Last Friday, October 2, at the UWC 29 event, the native of Manta, Christian Rivas, and Cesar Abad and Adrián Luna from Guayaquil, won the victory by unanimous decision in their bouts, these were carried out at the facilities of the Entram Gym in Tijuana, Mexico, a place that also welcomes them as a training center.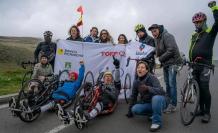 Ecuadorians with spinal cord injury go "Bicibilizing" disability
Read more
Abad, participated in the first fight of the night, where he beat the Mexican Mauricio Sosa in the lightweight category, adding one more victory to his professional record and remains undefeated with 3 wins and zero losses. For his part, Rivas, who made his UWC debut, beat local César Bañuelos in the bantamweight division. In this way, he updated his record and rose to 5 wins, 1 draw and 1 loss.
In the co-star fight of the night, Adrián Luna Martinetti, made his official debut in the Mexican company and defeated fellow debutant Óscar Palomares, who replaced the Argentine at the last minute, Francisco Sola. Luna dominated the fight and the three judges gave her the decision in order to ensure victory.
.