For the first time in 50 years, a South American Championship Junior youth and a Junior golf course. And Ecuador had this opportunity thanks to the growth shown since this discipline was reactivated in the continent during the pandemic of the COVID-19.
Cristiano Ronaldo saves Manchester United again in the final minutes
Read more
And is not for less. The Golf It was the second discipline that returned to the fields in the country, after professional soccer. It was possible thanks to its characteristics: it is played air free, allows the distance between the athletes and there is no need to share the ball or clubs.
However, it was not an easy task. Francisco towers, president of the Ecuadorian Golf Federation, remember that they had to knock on many doors to convince the disbelievers and make various proposals until obtaining the approval of its biosafety protocol, in July of last year.
The first authorization it was just to train in the field. Therefore, they took the opportunity to assemble a group with 20 athletes chosen by the technicians of different clubs in the country.
At the same time, support was sought for the complexes to open their doors. Until then everything was closed and there were no staff for him maintenance. But, thanks to the protocol, the go-ahead was received.
The next step was the final one. In August they submitted the application to organize national championships and since then they have already been 20 tournaments in the different categories.
Ecuador was the first country of South America which once again had official golf tournaments. For this reason, the South American of this sport proposed to set up the Junior youth and the Youth. It should be noted that the country was the venue only for the youth team and it was to take place in March 2020.
This reality is far from other countries. For example in Peru They only started training since July of this year. They started with concentrations, since they still could not compete, said the president of that federation Gilda Hawie.
Therefore, tricolor They hope to take advantage of their preparation and get a degree.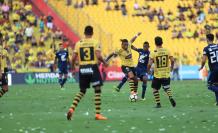 They authorize 50% capacity and 19 thousand people are expected for the El Clásico del Astillero in Capwell
Read more
.