In the midst of the crisis that lives University of Chile, came to light the deep analysis of Federico Valdesformer presid
In the midst of the crisis that lives University of Chile, came to light the deep analysis of Federico Valdesformer president of the blues during the most successful period of the club in recent years, where he was crowned Three-time Chilean soccer champion and won the 2011 Copa Sudamericana title.
The former blue helmsman referred to the bad present of the U and pointed to the way in which the team was formed. "The sports results that we are seeing they make it clear that the configuration of the campus was full of errors, there was a bad decision-making process in the hiring. It is advisable to redesign it, "he said in a conversation with El Mercurio.
Valdés recalled his outstanding administration at the University of Chile and explained that "In those years what we did was hire the best managers in the market, empower them in their field of action and we established a decision-making process in the hiring of players, which had errors, especially at the beginning, but over time it turned out to be very successful."
read also
Gary Medel's Bologna come from behind against Fiorentina and get their first win of the season in Serie A

Sun 11 Sep 2022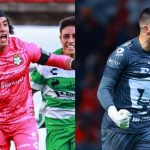 Madness in Liga MX: two goalkeepers score goals in discounts and on the same day

Sun 11 Sep 2022
Along the same lines, he pointed out one of Azul Azul's main mistakes: "Thinking that the decision of hiring a single person or a couple of people, no matter how much knowledge they may have on the subject, is risky. And in football taking those risks pays dearly.
"I was president for five years and I never got to meet the leader or the expert who knew everything. Neither in Chile, nor abroad. We achieved the greatest successes of the U by contracting through a collegiate process, in which a group of people intervened", he added.
In addition, Federico Valdés made it clear that it is not a good option for the University of Chile to take charge of the club. "The idea has no basis. And it is not good to work on the basis of ideas that do not have good support, because they are inconsequential (…) The nature of the academic activity could not be further from that of a professional football club"he added.
Despite the complex scenario that sinks U. de Chile, its former president is confident that the team will not go down to B. "I think we are going to save ourselves because, although fragile, our team is superior to the others involved in the fight for relegation", complement.