yesExcept for Tesla products, due to their revolutionary nature and their own show that precedes each presentation, few cars generated as many
yesExcept for Tesla products, due to their revolutionary nature and their own show that precedes each presentation, few cars generated as many expectations and took as many years of development as the very exclusive Mercedes-AMG One. Yes, finally, after almost 5 years, the hypercar that derives of the Formula 1 single-seater saw the light in its definitive version and has just been presented by the German brand, revalidating the characteristics and figures that the company had been anticipating during all this time.
Initially presented in 2017 as Project One, the hypercar is equipped with the 1.6-liter V6 that gave Lewis Hamilton so much joy in Formula 1, associated not with one but with four electric motors. Two of these electric drives will be located on the front axle, one at the turbocharger outlet and the other will be directly coupled to the combustion engine. At that time, the Stuttgart firm promised a power of more than 1,000 hp -it could reach 1,200 hp-, an acceleration from 0 to 200 km/h in less than 6 seconds and a maximum speed of more than 350 km/h. Figures that are impressive and that could even be surpassed given that in the course of these years, the vehicle and its propulsion system have surely been improved. Finally, the official figures are very similar to those anticipated by the brand: 1,063 CV of combined power, it accelerates from 0 to 100 km/h in 2.9 seconds, reaches 200 km/h in 7 seconds and its maximum speed is of 352 km/h.
Its very particular mechanics, which is the main reason for purchase, is also its main problem, which caused these almost four years of delay: the brand itself admitted that it is a huge challenge to adapt a competition engine to a street vehicle. As an example, in Formula 1, the propellant regulates at around 5,000 rpm and for the AMG One this speed should have dropped to around 1,200 rpm – a value that is still high for idling. It was also a great job for the engineers to make it suitable for the demanding emission regulations, not only for CO2 but also for noise, being very high for a production model within European regulations. The transmission is handled by a 7-speed automated manual gearbox and the 4Matic+ all-wheel drive system.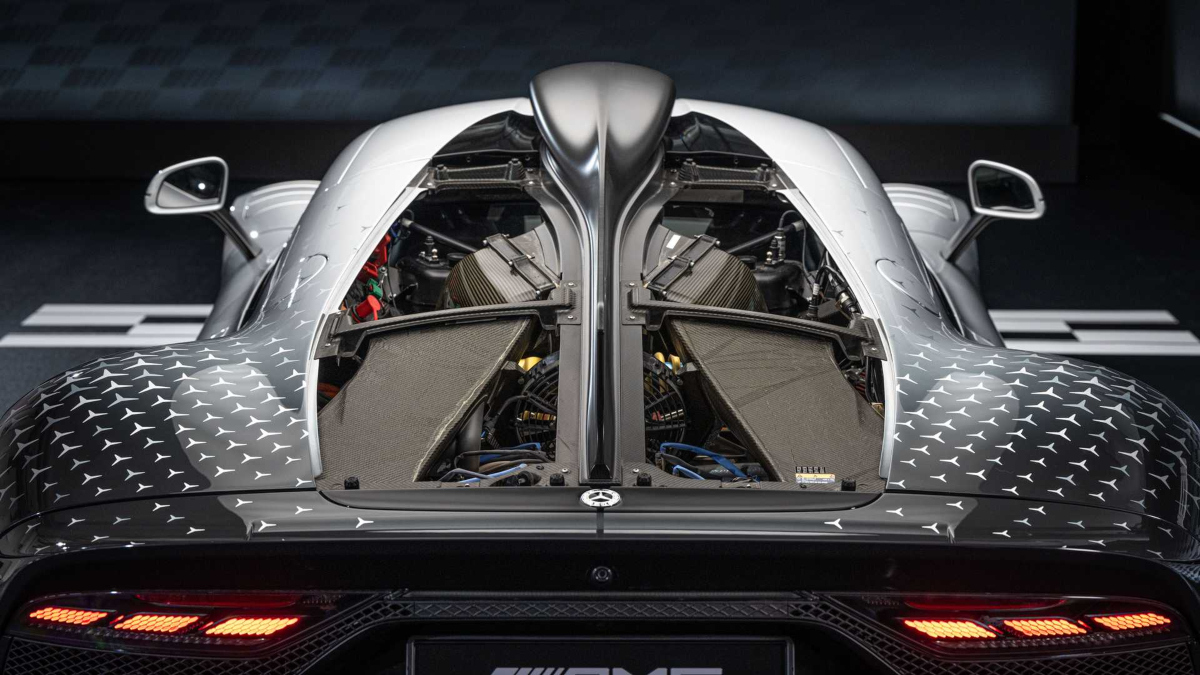 Separate mention for another peculiarity. If your powertrain posed all of the aforementioned challenges, it stands to reason how complex – and costly – its maintenance is. As many know, in F1 only four power units are allowed to be used per year, so teams must stretch their useful life to the maximum to avoid penalties. In this sense, the V6 has an estimated useful life of 50,000 kilometers, so within the purchase operation, the brand guarantees its replacement.
Another feature that makes it similar to the single-seater is its push-rod type suspension, with five arms and two bars that can be adjusted both backwards and forwards. It also has three settings that are combined with the address: Comfort, Sport and Sport +.
Inside doors there is an atmosphere of competition, but also that of the Mercedes-Benz street models. This fusion is achieved by various elements: the seats are for competition and are upholstered in Alcantara, a material also present on the dashboard and part of the door panels, which in turn are combined with multiple carbon fiber details present in the steering wheel, center console and seat structure. Other elements that mix the circuit with the street are the steering wheel – similar in format to that of a competition car, but with an airbag in the center and multiple commands, not only for car set-up, but also for audio and the telephony. The same thing happens with both screens, one for the instruments – with functions and visualization similar to that of a racing car – and another for the multimedia system, also with a lot of information about the operation of the hypercar and its mechanics. Below are the rectangular air outlets like those of a conventional Mercedes.
As planned, only 275 units will be produced, which have already been sold for several years… The price? It is anecdotal and equally impressive: US$2,000,000. Will any Argentine be on the list of buyers? For now we do not know, although what we are excited about is that there are rumors that the brand would go for the record at the Nürburgring that until now is held by Porsche.