The ANFP delivered the fifth edition of its yearbook in which it develops the financial balance of Chilean football, w
The ANFP delivered the fifth edition of its yearbook in which it develops the financial balance of Chilean football, with important data on the development of national football as an economic activity. Among some aspects, he stressed the existence of a "worrying trend" around the drop in club assets of 15% in 2021 compared to the previous season.
"The assets of the clubs fell for the second consecutive time, between 2020 and 2021, having a close relationship to what have been the accumulated losses in these two years of pandemicfacing the obligations with third parties having less income and where the costs skyrocketed due to the effect of the sanitary protocols, plus logistical issues", he explained. Diego Karmy, Manager of Development and New Projects, in dialogue with Sports DNA.
read also
President of Marseille rules out the signing of Cristiano Ronaldo: "Dreaming is a good thing for everyone"

Thu 25 Aug 2022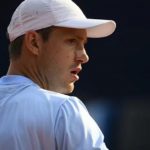 Nicolás Jarry got a tough match ahead and got into the final round of the US Open qualifiers

Thu 25 Aug 2022
The personero also stressed one of the problems that sustains that deficit around the Chilean soccer teams. "Transfers are the ones that have had the most impact, down 30% in the last two periods. There is a direct relationship to the narrowness of income and the increase in costs worldwide. In Europe, the 2020 window had a very strong downturn and the same thing happened in South America. It was decided to bring players with freedom in their pass. Already in 2022 it begins to reactivate again, "he assured.
The pandemic, a headache for the ANFP
All the measures involved in the arrival of covid-19 are the main factor that explains the economic deficit. "The impact is undeniable, at all levels of the entertainment industry. In tickets, the impact was more than 10 billion pesos compared to 2019. The impact has been hard, but it has been sustained. The most complicated thing is the issue of cost, it has caused effects on the assets of the clubs"said Diego Karmy.
In any case, projecting the development of the current season, the evolution in terms of the conditions of the country due to the pandemic would allow for better numbers in next year's yearbook for the financial statements of the national teams.
"For 2022, we project a significant improvement by recovering the issue of capacity and income from tickets, in addition to transfers. We just launched the National Training Soccer Plan because we have to be an exporting country, due to sports policies. We need to generate income by investing in young players so that there are sustained sales over time", closed the Manager of Development and New Projects of the ANFP.