Brazilian former soccer player Ronaldinho Gaucho delighted the Ecuadorian public this Saturday by dressing in shorts to play an exhibition match with other former players at the Jocay Stadium, in the coastal Ecuadorian city of Manta.
LigaPro: Suffering triumph of Independiente del Valle against Macará
Read more
The former soccer player Paris Saint-Germain, Barcelona, ​​Milan and Flamengoamong other clubs, was the great attraction of the match of legends that sponsored the celebration in Manta of the Sur Cup Internacional, a children's soccer tournament with teams from Ecuador and Panama.
The presentation of "dino" was rounded off with a note celebrated by his teammates such as Patricio Urrutia, Ecuadorian selected in the 2006 World Cup in Germany and winner with Liga de Quito of the Copa Libertadores 2008, Sudamericana 2009 and Recopas Sudamericanas in 2009 and 2010.
Some 1,500 children from different local schools who will participate in the South Cup Internationalwhose headquarters is port city where the Dolphin, of the Ecuadorian first division, plays its matches.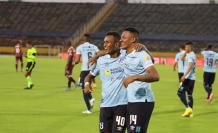 LigaPro: Catholic University gets into the fight for the stage
Read more
This is the third time that the winner of the Ballon d'Or in 2005 visits Ecuador after retiring from professional football.
In 2016 he was invited by the Barcelona Ecuadorian in his so-called "Yellow Night", where he starred in a great show.
In August this year he also visited Quitowho enjoyed his presence, where the children received him and shared some of his plays, after being invited by the Ecuadorian Pro League, which organizes the local tournament for the fourth consecutive season.