What hard should it be the role of a soccer player's wife? That is a question we always ask ourselves. In the photos everything is beauty and glamor, but what about bottom? What exists in a home where the husband on the week It is not there, where even the birthdays are changed the date and to this is added the siege of the followers?
Joao Ortiz, new Quito League player for the next five seasons
Read more
EXPRESO spoke with the Brazilian Lunna Athayde, wife of Gabriel Marques, former player of Barcelona.
How difficult is it to be a gamer's wife?
I think the hardest thing is the routine that we don't have with them. For example, you want to celebrate a birthday for your son and it cannot be done on the date it is, because that day he is concentrating, playing, traveling or even preseason. They are very tough details, that of being aware of a game to do some activity. You imagine that something is planned for after the match and it is a Classic and you lose it, with what spirit are you going to celebrate? It all depends on how the result goes to do something social.
Are weekends worse over time?
Yes, but it is not a problem now because I have my children and I spend it with them, it is easier to carry. Before, when they weren't there, I'd spend it alone.
When you read lies about your husband on social media, how do you handle that situation?
That is very difficult, because you know what your husband is like on a human and professional level. And when you read something that is a lie, it kills you. Give courage.
And do you answer those comments?
I have had to answer several, but at the same time I regret doing it and I delete them from social networks; now I lock them and that's it. Sometimes people follow you on social media, they send you greetings, but you read things about themselves on other pages and they make me angry.
Is a player's wife jealous?
It all depends on the relationship you have, in my house with Gabriel there is a lot of trust and we have never had those problems …
How do you handle the issue of jealousy with fans?
Once they went to take a picture with him, I was with my daughter waiting for him on the court, when a girl came and said that if I could do it, I said yes, but I was hugging him and touching him too much and I told her that I was not good.
The fans see the players laugh, but the wives watch them cry. In that moment, how do you give them strength?
They are the moments that make us stronger, having no one and being both, serves to get out of any circumstance. Gabriel is very strong, I don't understand where he gets so much strength from. With the departure from Barcelona I was very sentimental. It's that I saw him go through many things, from the injury to his recovery. I see everything from the outside.
At what point did Lunna become a Barcelona player, despite the fact that Gabriel will play for another team this year?
Since I stepped onto the pitch for the first time I felt crazy, there is no other word to define Barcelona. And I feel this now more than Gabriel is gone. And when he told Liz that his father was not going to Barcelona, ​​it affected him a lot.
How did you meet Gabriel Marques?
We are from the same city, Pedro Leopoldo, in Minas Gerais, and once when he was playing in Uruguay he went on vacation to our land and we met.
Gabriel is a serious guy, how did he get to you?
His face is serious, but he is affectionate, we had mutual friends and we met. He talked to a friend of mine and here we are with two beautiful babies in a wonderful country.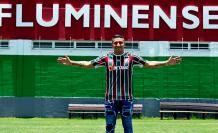 Mario Pineida "I am going to miss those who were part of this great institution"
Read more
What do you like about Ecuador?
The weather and the kindness of the people, you are loving.
Who started the tattoo collection?
I led him down the wrong path of tattoos. He liked them, but I didn't think he would make many. He lacked the decision until he made them.
His is social networks …
I am an influencer and I work with many brands, I am happy with the results I have on Instagram (@ lunna.athayde).
And with the foods of Ecuador, how do you get along?
The onion is the best. And what I don't like, I hope they don't kill me, I'm not such a fan of bowling.
Are they both from a lot of gym?
Yes, I go the way of Gabriel, he is very focused on being physically well, taking care of food and being in the gym.
Liz and Teo are Ecuadorian children, can more come?
For now we do not know. They are Ecuadorians. Gabriel says no, but I want another.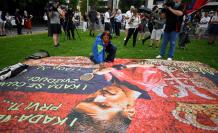 Djokovic appreciates the support of his fans
Read more
.