Arturo vidal landed in Rio de Janeiro and will be a new player of the flamingo. With his arrival at the "Mengao", the "Ki
Arturo vidal landed in Rio de Janeiro and will be a new player of the flamingo. With his arrival at the "Mengao", the "King" joins an outstanding list of Chilean figures who also passed through Brazilian football.
The 7 Chilean soccer stars who arrived in Brazil
Elijah Figueroa led the glorious performances of Chileans in Brazilian football. The legendary national defender broke it with International between 1972 and 1976. He won two Brasileiraos, six Gaúcho Championships and was chosen three times in a row as the Best Soccer Player in the Americas. His imprint consolidated him as an idol of the Porto Alegre team.
After standing out in Colo Colo and in the goal of La Roja, Roberto Rojas made the leap to Brasileirao to become a brand new reinforcement of the Sao Pauloclub that defended between 1987 and 1989. The "Cóndor" managed to conquer two Paulista Championships. After hanging up the gloves, the historic goalkeeper stayed in the Brazilian team as a goalkeeper coach.
After shining in Chile and having passed through Spain, Colombia and Mexico, Jorge Aravena landed in Brazil 1991 to play with him Portuguese. The "Mortar" arrived at the São Paulo team as one of the referents of the Chilean team and scorer, despite being an offensive midfielder. However, his time in Brazilian lands was brief, since the following year he returned to national football.
read also
DT of Flamengo awaits Arturo Vidal with open arms: "He will be of great value to our team"

Thu 07 Jul 2022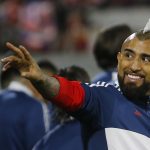 The figures waiting for Arturo Vidal in Flamengo

Thu 07 Jul 2022
After being champion with Unión Española, Joseph Louis Sierra brought his talent to Brazilian football and wore the colors of São Paulo in 1995. In a year competing with the tricolors, the "Coto" won the Conmebol Cup title and in 1996 he returned to Chile to be the star signing of Colo Colo.
Claudia MaldonadoOlympic medalist with La Roja, spent a large part of his career in Brazil from 2000. It was coveted by the big casts of that country and became a key piece of Sao Paulo, Cruzeiro, Santos, Flamengo and Corinthians. He won more than ten titles on Brazilian courts, in addition to the Recopa Sudamericana.
After showing all his magic in Colo Colo, Jorge Valdivia arrived in Brasileirao in 2006 to start a golden story with Palm trees. Beyond the four titles he won at "Verdao" and being named the best player in the league in 2007, the "Wizard" left his mark and was marked as one of the idols and benchmarks of the club.
Another star of the Golden Generation who passed through Brazil was Charles Aranguiz. Among 2014 and 2015, the "Prince" defended Inter Porto Alegre after consolidating in U de Chile and projecting himself as a figure of the Chilean team. With the "Colorados" he won two Gaúcho Championships and continued to show his high level, which ended up taking him to Europe.
In addition to those already mentioned, there were several important Chilean soccer players who came to Brazil, such as Mauritius Island (Flamingo), Eugene Mena (Santos/Cruzeiro/Bahia/Sao Paulo/Sport Recife), Edward Vargas (Guild/Athletic Mineiro), Juan Carlos Letelier (International), Nelson Tapia (Saints), among others. Now, it is Arturo Vidal's turn with Flamengo.