This weekend the Christmas Eve and ChristmasHowever, football does not stop in some corners of the world and the main focu
the agenda with the games to watch during this weekend
This weekend the Christmas Eve and ChristmasHowever, football does not stop in some corners of the world and the main focuses are on the English football boxing day, A special day that takes place in England where the clubs will face each other from December 26.
For this one Boxing Day, interesting clashes will take place in the Premier league and also in the Championship, with the presence of the Chilean Ben brereton next to Blackburn Rovers.
Next, check the agenda with the games to watch during this weekend of Christmas Eve and Christmas:
Sunday December 26 – Premier League
Manchester City vs Leicester City – 12:00
Norwich City vs Arsenal – 12:00
Tottenham vs Crystal Palace – 12:00
West Ham United vs Southampton – 12:00
Aston Villa vs Chelsea – 14:30
Brighton vs Brentford – 17:00
Sunday December 26 – Championship
Huddersfield Town vs Blackpool – 12:00
Hull City vs Blackburn Rovers – 12:00
Luton Town – Bristol City – 12:00
Middlesbrough vs Nottingham Forest – 12:00
Monday December 27 – Premier League
Newcastle – Manchester United – 17:00
Monday, December 27 – Championship
Derby County vs West Bromwich – 12:00
Queens Park Rangers vs Bournemouth
Read also
Bielsa and Sierralta are left without Boxing Day: Premier League was hit again by covid-19 and suspended two games

Thu 23 Dec 2021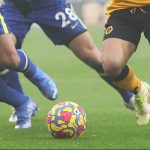 Premier League determined not to stop the competition despite the outbreak of covid-19 in clubs

Mon 20 Dec 2021.