"The true story is mine. I am the protagonist", with this declaration of intentions Luis Figo begins to explain in The Figo Casea documentary rece
"The true story is mine. I am the protagonist", with this declaration of intentions Luis Figo begins to explain in The Figo Casea documentary recently released by Netflix, the details of his signing for Real Madrid in 2000. The Portuguese, a star at Barça at the time, went from being a hero in Barcelona to being the number one public enemy of the Blaugrana fans.
The Netflix film shows in great detail how the most important transfer in football history was forged. Florentino Pérez disbursed 60 million euros —10,000 million pesetas— to snatch Figo from Barcelona in one of the hottest summers ever seen. In comparison, what happened with Mbappé and Madrid this season is child's play.
That signing not only meant the decline of Barcelona, ​​which went several years without winning any title. Figo was the pillar on which he built the famous Madrid de los Galacticos, which brought together the Portuguese, Zidane, Ronaldo and Beckham on the same pitch.
Barça fans burn a Figo shirt.
The history of the signing of Figo began with a lie by Paolo Futre. Futre himself recounts that he had a meeting with Florentino Pérez —at that time a candidate for the presidency of Madrid— where he He told him that he wanted Figo to be the electoral trick with which to defeat Lorenzo Sanz, who had just won the Champions League.
Futre called José Veiga, representative of the Portuguese and the other great protagonist of the documentary, at dawn to inform him that an unknown businessman and a heavy smoker wanted Figo in Madrid. Veiga hung up the phone and Futre was left talking to himself. After a few seconds of pretending, Futre told Florentino that Veiga wanted a 10 million euro commission. They ended up agreeing on six. That's where it all started.
It so happened that both Real Madrid and Barcelona had presidential elections and Joan Gaspar, vice president with Núñez, was the top favourite.
Until Florentino announced that he had Figo tied up, no one thought even remotely that Lorenzo Sanz was going to lose the Real Madrid elections in 2000. Sanz had just won Real Madrid's eighth European Cup in a tremendous final in Paris where the Raúl's Madrid won 3-0 against Valencia.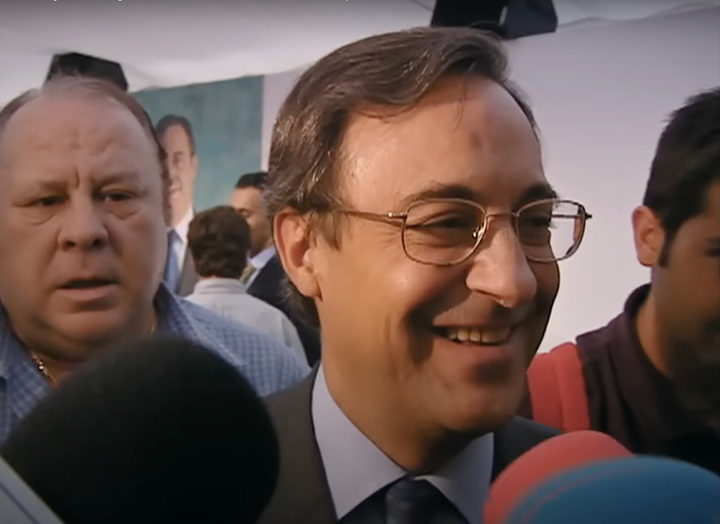 Florentino Pérez during the electoral campaign of the year 2000.
Guardiola, Roberto Carlos, Fernando Hierro, Valdano, Futre, Florentino Pérez, Joan Gaspar, José Veiga and several sports journalists such as José Ramón de la Morena tell in almost two hours what it meant and how was the stormy arrival of Figo in the capital of Spain.
The delirium of this story reaches its peak with the anecdote told by Morena. The SER journalist found out about Florentino Pérez's plans to sign Figo and gave the scoop during the wedding of Lorenzo Sanz's daughter to Michel Salgado. She left mass, got into a car and announced it on the 20:00 newscast on SER.
Everything has been said about this signing in two decades. CThere was an urban legend that Figo's agent signed a contract with Florentino Pérez for which if the Portuguese did not sign for Madrid, he would have to pay 30 million euros that would go to the white club, something that the documentary confirms.
It was also said that Figo agreed to go to Madrid so that his agent would not have to drop that millionaire. Something that is not confirmed in the documentary but that is glimpsed.
Figo spends a convulsive summer and tells everyone what they wanted to hear: Sport who stays at Barça now Brand who will go to Madrid. The player reveals his family received threats and that he was the victim of a campaign of harassment against him and his family.
"I will only play for Barça", Figo says to Sport. In parallel, the worst thing that could happen to Figo happens: Florentino Pérez wins the Real Madrid elections and the contract that his agent signed now comes into play. Either he goes to the white club or the agent will have to pay 5,000 million pesetas.
With Figo undecided and Futre and Veiga on the verge of a nervous breakdown, they travel to the beach to convince Figo that the best thing he can do in life is go to Real Madrid.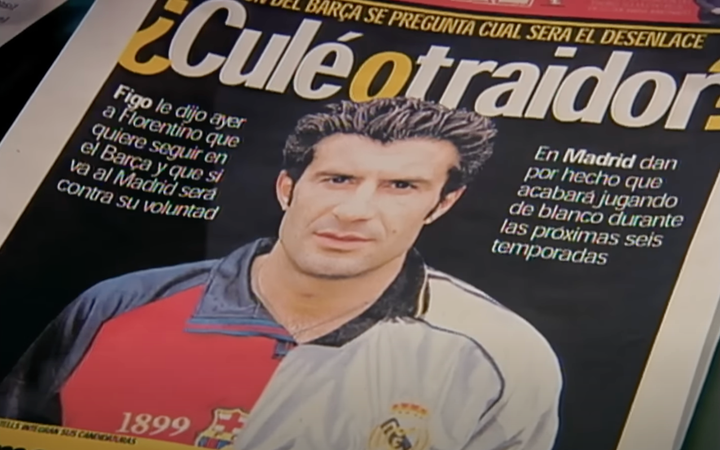 Then begins a tug of war between all those involved in the Figo case. The player is packed onto a private plane and meets Florentino in Lisbon, where the Madrid president convinces him to wear white.
"It was the pillar on which I was going to build that sports project," says the Florentino of the present that he told Figo in that meeting that ended with the Portuguese's signature.
The images of Figo's presentation with Real Madrid attest that not even with the Real Madrid shirt in hand was he clear about what he had just done. He recognizes the Portuguese that at that time he was overwhelmed by events and that now, with perspective, he was right with his decision.
For the history of football remains the reception that the Camp Nou gave him months after signing for Madrid. The Portuguese was greeted with a pig's head and even a JB glass bottle was thrown at him.
There has not been, not even 20 years later, a transfer that has meant for the world of football, both financially and emotionally, not even a fifth of what it meant for Figo to leave Barça to go to Real Madrid. It is as if Raúl had signed with Barcelona. "It's as if Madrid had signed Messi," says journalist José Félix Díaz in the documentary.
YOU MAY ALSO LIKE