By Cristián Cavieres Armijo The expulsion of Arturo vidal in the defeat of chili in view of Ecuador by South American Qual
By Cristián Cavieres Armijo
The expulsion of Arturo vidal in the defeat of chili in view of Ecuador by South American Qualifiers not only complicated The Red in the game itself, if not it served to recall other great "kicks" of national players defending everyone's shirt.
In that sense, we remember that of Raúl Ormeño to Branco in '89, or that of Luis Chavarría to Enzo Francescoli and the particular statements of "Chiqui" or also that of Gary Medel to Lionel Messi in the final of the Copa América in Santiago, anyway. Various actions that did not leave "La Familia del Fútbol" indifferent.
Read also
The unusual list of absences that Arturo Vidal has had against Argentina

Wed 17 Nov 2021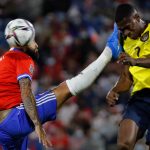 Arturo Vidal apologized for his expulsion with Ecuador: "I still can't believe it"

Wed 17 Nov 2021
And that is why in Sports DNAWe went to seek the opinion of former national soccer players, some who did wear the red jersey, but the common denominator of these players in public opinion is that of "tough men" in soccer.
The first one who answered us was Mario Soto. The former selection and champion with Cobreloa lowered the profile a little more to the unfortunate action of King and for him it is nothing more than something that is "part of the game."
"Making a foul of that style is very difficult, I saw the agility to lift his leg but the player has two options: hitting, which is in football, and the other thing is not to do it, to avoid it and it is clear when he apologizes that he did it without intention, there is nothing left but to believe him. It hurt us to stay with one less man", Emphasized the former central defender.
On the other hand and more drastically is the former defender of Unión Española, Unión San Felipe and Colo Colo, Ricardo Gonzalez. The well-known "Manteca" pointed out that under no circumstances should Vidal be questioned and although he raised his leg more than he should, the Inter man should not be sentenced.
"It seemed to me that there was no intention to hit the opponent, it is a dangerous play I would say more than an intentional kick. The rival also put his head, perhaps it should have been reviewed in the VAR because there was no intention. It is unfortunate because a player of the hierarchy was lost ", commented González.
In that same line of intention is Marcelo zunino. The former defender of Audax Italiano and current candidate for CORE, stated that referee Fernando Rapallini could have acted differently.
"It was a reckless move, but we have to see that Vidal was on his back, he did not have peripheral vision. The football criterion could also be applied, nowadays the referees are very picky and adhere much more to the regulations and to the VAR issue. Today we have very virtual referees, very digital where the experience, the facts of the field and common sense do not apply ", concluded Zunino.
.