Before you start the journey back to Tijuana, Mexico, just over a week ago, where he plans to train for a couple of years, Michael Morales talked with EXPRESS about the contract you signed for three fights starting in January 2022Although, he clarified, everything depends on his development, since they can program him more or less than the scheduled amount.
The young man 22 years and a native of the canton Pasaje, in the province of El Oro, who will officially debut on January 22 on the billboard UFC 270, in the United States, against the North American Trevin giles, talks about the hard workouts and how his emotional part is in total balance thanks to his mother Katty hurtado, who is his main motivation.
– Where does your passion for mixed martial arts come from?
Sports have always existed in my family. My parents are judocas, so I was always on the mat since I was a child. I trained since I was 6 years old, and although I liked it, my thing was Olympic wrestling, so I started training that at 10. One day my dad took me to the gym run by Víctor Vallejo and David Chamaidán, in Machala, and I started training mixed martial arts with them. Already at 15 I made my professional debut.
– Is signing the contract with the UFC a dream come true?
Michael Morales wins by unanimous decision and lands a contract with UFC
Read more
No, it is a goal. My dream is to give everything to my mom. Buy her a house and be able to visit her. My goal is to give my full support to her and my family. Actually, I planned the UFC for when I turned 25, but things were happening. I moved to Tijuana, Mexico, to train; I didn't think that at 22 I would sign with the UFC.
– Do you feel pressure because now everyone follows your career more closely?
No, I try to take it easy. My family has always supported me, they try to keep me well and in good hands. Now I'm only focused on my thing, on what I like. I see the support of the people and that is why I train, to give that pleasure and joy to the country, but to give them triumphs I have to train a lot and that is what I do.
– Mixed martial arts involves everything, but we know that its strength is not jiu-jitsu.
(Laughs) It's true, the sport I like the least is jiu-jitsu, that's why I give it the hardest (I train). When I practiced with Victor, I would escape from those classes and go to wrestling or boxing. At 16 I lost a fight with a Quiteño named Centeno, it was an amateur and they just finished me with jiu-jitsu. Since then I changed my mentality and now I do everything.
– Is it true that it makes you angry when you touch your face?
How do you know that? The truth is that if. I never liked getting hit in the face. There was a time when they cut off my right eyebrow with a blow and I exploded. I think it was in my second fight and with a man from Guayaquil. I couldn't stand the urge to fight and I hit him with everything.
– In the Octagon he is rude, but with his mother he changes.
They are two different things. The goal of sport (mixed martial arts) is not to be mean or hurt. This is a sport like boxing, judo, or swimming, albeit a bit more aggressive. I always try to say hello before starting a fight, also after, because I have to thank for sharing the octagon. I don't want anyone to like me, because this is a sport in which we must be tough there, but not outside.
– Has an opponent ever left you with his hand outstretched?
So far, no. They provoked me before the fight, they pushed me, they gave me head butts, but I remain calm because revenge comes in the fight. Everything remains in the octagon.
– On a scale of 1 to 10, how much does the body hurt after a fight?
Ten, but the pain is the least of it, for me the feeling of having won is the best that can be experienced. In my last fight, I had to have surgery on my ear, and my knee is still in therapy. I do not 'stop ball' the pain, I try to recover quickly and do things well to train right away.
– If Marlon 'Chito' Vera puts cumbia in the dressing room, what do you put on?
I call my mother, tell her that I am going to fight and she beats me with her insults and scolding to motivate me. She knows that when I call her I am dying of fear. I know I'm a fighter, but that doesn't take away my fear. She tries to control me.
– What has cost you the most to have the UFC contract?
Leave my family and my mom. I just saw her in October after 9 months. I live in Tijuana, but I try not to lose communication.
– What was it like to live in a gym for about a year?
(Is surprised). I don't know how they knew, but it's real. It was in Machala, in the province of El Oro. In a pandemic, gyms were closed and I had nowhere to train. I wanted to do it at home, but I threw the tables and furniture at my mother and it was not possible. I talked to my team of coaches and they got me an apartment on top of a gym. Every day I went down to get ready.
– How many hours and days do you train a week?
Three sessions per day. In the morning from 09:00 to 10:00, in the afternoon from 17:00 to 18:00, and at night from 21:00 to 22:00. My diets depend a lot on the weather I am in. If I am going to fight I eat very light and half of normal (vegetables and protein). What I can confess to you is that I don't like broccoli, I always have that changed at meals.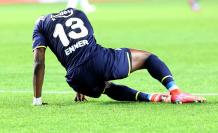 Enner Valencia will be low in Ecuador to measure Venezuela and Chile
Read more
– Is it true that you could become a policeman or go to the army?
How did they know? (smiles) It's true, but it wasn't my thing. I have uncles who are in the military, but I didn't feel comfortable thinking about wearing the uniform; I saw myself training, sweating and fighting. I always envisioned myself in an octagon with gloves.
– Why train in Tijuana and not here?
The sport here is the same as abroad, except that there are more fights and events, therefore, more opportunities (…) Things are also good here, but it is necessary for the 'pelados' to come out because the competitions are not as often as there.
– What do you spend more time on: striking, grappling or jiu-jitsu (fighting techniques)?
I try to do everything equally, but I train more Olympic wrestling.
– This sport has a lot of strength and mentality, did you ever feel like you couldn't?
Yes, there are times when the pillars break and the will is lost … it has happened to me, but my mother is always pending. When I feel like I'm going to break, I call her and tell her how bad I am; I cry over a video call, he challenges me, asks me seriously and reminds me that this is my life. Now in Tijuana I have a sports psychologist with whom I talk a lot and she helps me channel all this.
– The president of the UFC, Dana White, asked him calm before the fame that is coming …
Yes, it is clear to me. My mom wouldn't let my ego get high. I'm just focused on winning.
THE TOKEN
Age: 22 years / Birth: Pasaje, El Oro province. Sport: Mixed martial arts (UFC) Category: Welterweight or medium (170 pounds) / Trajectory: In September he defeated Nikolay Veretennikov and secured a contract to fight in the UFC. He will officially debut in the league on January 22, 2022 against Trevil Giles.
.