The 2022 F1 season is currently on hiatus. After the first 13 races of the yearand passed the Hungarian Grand Prix won by
These are the races that remain to close the 2022 Formula 1 season
The 2022 F1 season is currently on hiatus. After the first 13 races of the yearand passed the Hungarian Grand Prix won by Max Verstappen A few weeks ago, the highest category of motorsports was "on summer vacation".
But the rest of the pilots will not last long, this because only in a couple of weeks, the fight for meet the monarch of the category, as well as the team that will lift the trophy, will reach its end.
On it, Max Verstappen has practically everything on track to obtain the two-time drivers' championship, while Red Bull is closer to ending Mercedes' reign at the constructors' level.
That is why with the team of Sports DNA We tell you how many races remain to finish the 2022 F1 season.
The remaining races in the 2022 F1 season
August 28 | Belgian GP | Circuit of Spa-Francorchamps
September 4 | Netherlands GP | Zandvoort Circuit
September 11 | Italian GP | Autodromo Nazionale di Monza
October 2 | Singapore GP | Marina Bay Street Circuit
October 9 | Japanese GP | suzuka circuit
October 23 | United States GP | Circuit of the Americas
October 30 | Mexican GP | Autodromo Hermanos Rodriguez
November 13 | Brazilian GP | Autodromo Jose Carlos Pace
November 20 | Abu Dhabi GP | Yas Marina Circuit
read also
Formula 1 results: this is how the drivers classification goes after the Hungarian GP

Sun 31 Jul 2022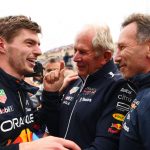 Formula 1 results: this is how the constructors classification goes after the Hungarian GP

Sun 31 Jul 2022
This is how the drivers classification goes
Verstappen | 258pts | Red Bull
charles leclerc | 178pts | ferrari
Sergio Perez | 173pts | Red Bull
George Russell | 158pts | Mercedes
Carlos Sainz Jr. | 156pts | ferrari
Lewis Hamilton | 146 points | Mercedes
lando norris | 76pts | McLaren
Stephen Ocon | 58 points | Alpine
Valtteri Bottas | 46 points | Alfa Romeo
Fernando Alonso | 41 points | Alpine
Kevin Magnussen | 22 points | Hass
Daniel Ricciardo | 19 points | McLaren
Pierre Gasley | 16pts | Alpha Taurus
Sebastian Vettel | 16pts | Aston-Martin
Mike Schumacher | 12pts | Hass
Yuki Tsunoda | 11 points | Alpha Taurus
Guanyu Zhou | 5pts | Alfa Romeo
Lance Stroll | 4pts | Aston-Martin
Alexander Albon | 3pts | Williams
Nicholas Latifi | or pt | Williams
This is how the constructors' classification goes
Red Bull | 431 points
ferrari | 334 points
Mercedes | 304 points
Alpine | 99 points
McLaren | 95pts
Alfa Romeo | 51 points
Hass | 34pts
Alpha Taurus | 27 points
Aston-Martin | 20 points
Williams | 3pts