Make a ranking with best ufc fighters in the world is quite complicated today. We always run the risk of leaving out one of those who
Make a ranking with best ufc fighters in the world is quite complicated today. We always run the risk of leaving out one of those who have made history. In addition, the appearance of new fighters manage to overshadow a few legends.
Here is a short list of some of them. the best fighters of the Ultimate Fighting Championship, the largest mixed martial arts organization in the world.
1. Jon "Bones" Jones
Category: semi heavy
Jon Jones beat André Gusmão in his debut in 2008 and from then on he became the great rival to beat in his category. At just 23 years old, he defeated Mauricio Rua by KO, crowning himself the youngest champion of the UFC in light heavyweights. He has the honor of having a record of 26 wins, one loss and one no-decision. He is recognized as one of the brightest fighters in the UFC.
2. Conor McGregor
Category: Lightweight and Welterweight
Conor McGregor's main weapon is boxing. In fact, his powerful fists have allowed him get some of the best KO's in the sport. The fight with José Aldo is still remembered, who only lasted 13 seconds in the ring, being fastest knockout in history of this combat sport.
In addition to his combat skills, he has also stood out for his ability to put on a show. Without a doubt, we are facing one of the favorites of the industry for his controversies and for his ability to understand the art of entertainment like no other.
3. Georges "Rush" St. Pierre
Category: Welterweight and Middleweight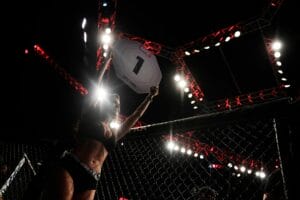 George "Rush" St. Pierre he was quite a strategist, capable of adapting to his opponent, using all his strengths and attacking his weak points. This allowed him Win the welterweight title twice and the middleweight title once. In the first category he was able to defend his position up to nine times.
He has the honor of having defeated several of the main champions in his prime, as was the case with Nick Diaz, BJ Penn or Matt Hughes. Retired in 2017 with a record of 26-2 and defeating in revenge the only two who had beaten him.
4. Kamaru Usman
Category: welterweight
Kamaru Usman He was born in Nigeria, although at just 5 years old he moved to the United States with his family. Before making the jump to the UFC he accumulated a record of 56 wins and 0 losses in high school. he proclaimed himself one time welterweight champion having to his credit a statistic of 20 wins in 22 fights.
5. Max Holloway
Category: Featherweight
The fighter of Hawaiian origin made his promotional debut in 2012 measuring his strength against Dustin Poirier. He lost the fight via submission in the first round, but over the years he managed to make a name for himself in this discipline, with an enviable record of 23 wins and 7 losses.
in June 2017, After putting on a streak of ten consecutive wins, he faced José Aldo for the unification of the featherweight titles. He prevailed in the third round by TKO, thus obtaining the UFC featherweight champion title.
6. Anderson Silva
Category: Middleweight
It was known as the 'Brazilian spider' and has the privilege of having defended the middleweight title ten consecutive times, being the first fighter to achieve such a defense record. He also stood out for keeping the title of division champion for almost 7 years, something that never happened in the UFC.
Unlike other colleagues, he has never been in favor of offering a show in his fights, which to a certain extent reduced his notoriety. He retired with a record of 30 wins and four losses.
7. Amanda Nunes
Category: Bantamweight and Featherweight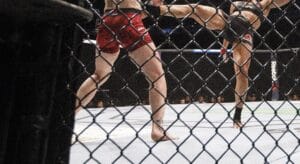 After Randy Couture and Daniel Cormier, amanda nunes has become the third UFC fighter to hold titles in two different categories. He defended his bantamweight and featherweight belts as many as seven times. She is known as the champion of champions, knocking out the likes of Ronda Rousey, Holly Holm and Valentina Shevchenko.
8. Wheili Zhang
Category: straw weight
Wheili Zhang He has an enviable track record, with just three losses in 25 fights. August 31 2019 managed to win the title in the Straw Weight category after defeating Jéssica Andrade by technical KO in the first round. Her win also earned her her first Performance of the Night award.
9. Angela Lee
Category: atom weight
In May 2016, Angela Lee became the youngest fighter to win a world title in MMA won over Mel Yamaguchi for the ONE Atomic Weight Championship. He had just carved out an important career in the world of martial arts.
In his career he can boast of having a Strawweight championship in ONE, in addition to five successful defenses. He presents a balance of 11-2.
10. Khabib Nurmagomedov
Category: Light weight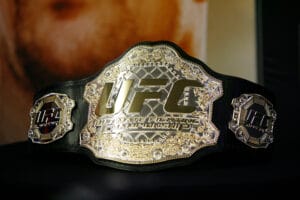 'The Eagle' retired undefeated in 2020 with a perfect track record. He signed a total of 29 victories in as many fights. He is mostly recognized for his grappling skills, dominating the entire cage from start to finish.
He can boast that more than half of his wins were by submission, including one against the great Conor McGregor. He held the UFC lightweight world championshipwith the record of 21 takedowns in a match.
Who is the best UFC fighter today?
At the moment, in the pound-for-pound ranking, the first place falls on Alexander Volkanovski. He managed to rise to the top after the defeat harvested at the end of August by Kamaru Usman against Leon Edwards.
The Australian is the UFC featherweight champion, with a 25-1 record as a martial arts fighter. His only loss came in May 2013 and after that date he went on a 22-fight win streak, including 12 since debuting in the UFC in November 2016.
Now you know a little more about the most outstanding fighters of the UFC throughout the history of this sport. Enjoy betting on combat sports and boxing with bwin!
Show more bets