This offseason has proven the importance of WRs in the NFL with big trades for players like Tyreek Hill, Davante Adams and AJ Brown, as well a
This offseason has proven the importance of WRs in the NFL with big trades for players like Tyreek Hill, Davante Adams and AJ Brown, as well as contracts awarded to Deebo Samuel, DK Metcalf, Terry McLaurin and Diontae Johnson. With these pieces, teams seek to improve their chances of reaching a Super Bowl, increasing the level of play of their QBs and opening spaces for the other WRs of their own team.
As in the QB article, I seek to accommodate the top 32 WRs in the NFL heading into the 2022 season and order them in tiers to be able to distinguish where they are located in the NFL. In this article you can find the best 16 of this series. The order is secondary, what does matter is where they are labeled.
elite receivers
1.- Davante Adams – Las Vegas Raiders
The way he runs the routes is a beauty, without a doubt the best in the entire league. Wherever you want to see him he dominates, after the catch, at the spot of the catch and being open no matter what coverage he faces.
Over the past two seasons, Davante Adams has dominated the NFL in WAR, posting 0.71 wins over replacement per season, which is .12 better than any other WR.
The only downside is his age, but with this talent even with limited abilities he can perform at a high level.
Still don't know what WAR is? Check it out here:

2.- Cooper Kupp – Los Angeles Rams
In 2021, this player had one of the best seasons in history, dominating completely, first in the regular season, being the fifth WR of all time with the most receiving yards in a season, and then in the postseason, being the MVP of the Super Bowl posting 3.12 yards per route rushed in the biggest time of the year.
As a fun fact, since PFF began measuring yards rushing (2006), Cooper Kupp is the fourth best WR in history in this statistic with 3.11 behind only Julio Jones in 2015, Steve Smith in 2008 and Andre Johnson in 2007.
See in this chart how Cooper Kupp was in his own kingdom converting firsts and tens in 2021 against any coverage he faced.
3.- Justin Jefferson – Minnesota Vikings
Without a doubt the best young WR in the entire NFL. His production two years in a row was the same and he didn't regress in any way but he remained well above average. Although expectations were high for his yards running, he exceeded them, and by far at a level very similar to that of Kupp and Davante Adams. This player not only has cuts in his routes that are special but also generates after the reception, in 2021 he was the WR21 in YAC by route run.
At just 23 years old, in recent seasons only Davante Adams and Cooper Kupp, WRs 7 years older than him, have provided more wins over the replacement than him.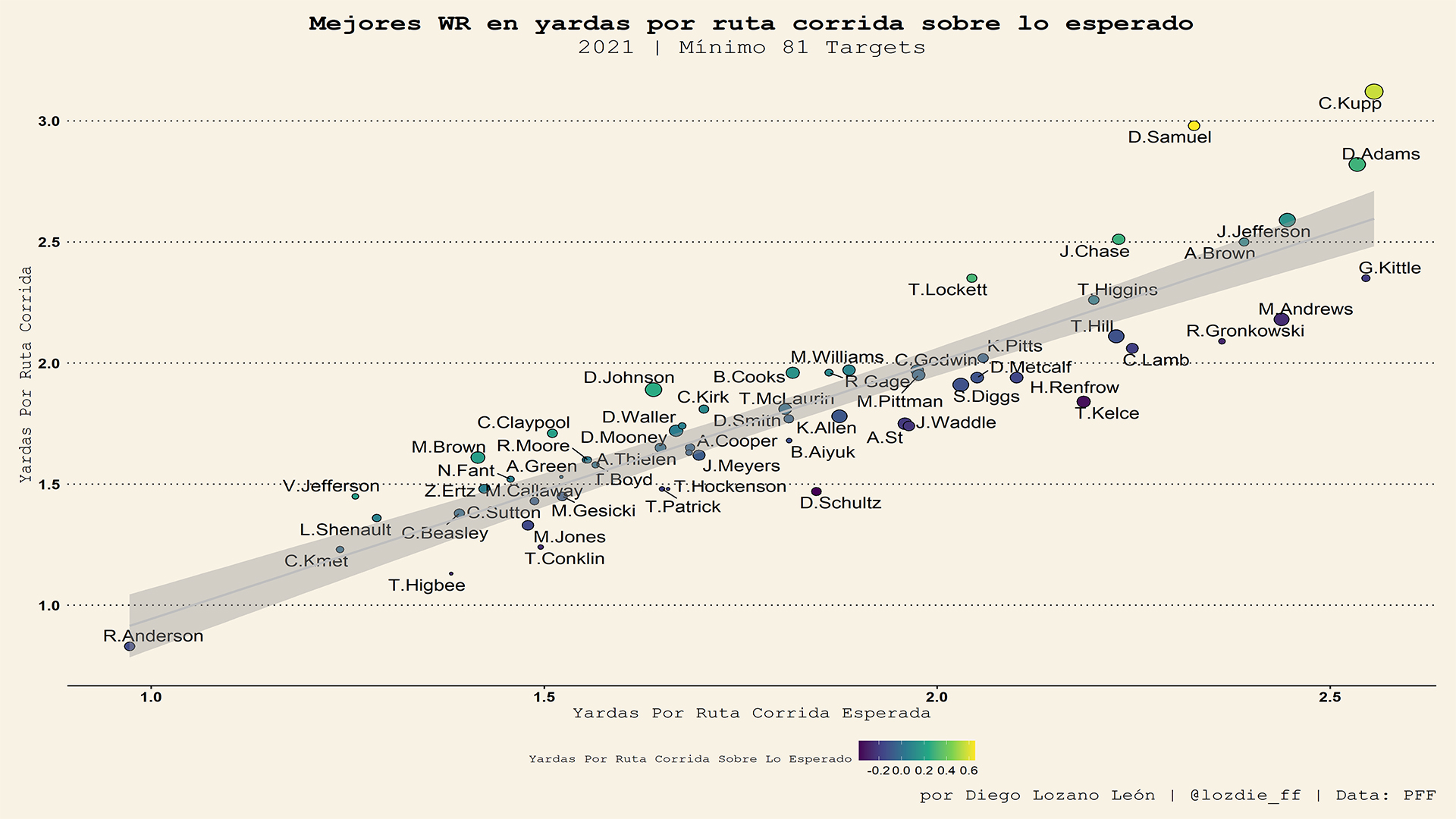 Receivers as good as can be
4.- AJ Brown – Philadelphia Eagles
The only reason he's not in the top tier is because of constant injuries that have prevented him from making a bigger impact on his team and dominating the league. Now, if we measure his production by running route or by receiving, an argument can be made that he has been the best WR in the NFL the last two seasons. He is the second- and fifth-best WR in the NFL in rushing yards the past two seasons respectively and has dominated after the catch, as evidenced by the TD against the Ravens in 2020.
Even though he generated less after the running route last season, what this player generates in an entire offense is a huge impact that still hasn't been measured at the right level. If he stays healthy through 2022, he will undoubtedly be seen in the Top 3 in the NFL.
5.- Tyreek Hill – Miami Dolphins
He has dominated the NFL the past six seasons like few others have. Not only that, but coming off a great season in 2021 causing the entire NFL to change the way they defended the Chiefs, Hill's impact goes beyond statistics, he managed to change the perspective of an entire rival team when it comes to defend it and that is invaluable.
If we want to talk about statistics, Tyreek Hill averages 2.28 yards per route rushed in his career and the league average for this statistic is 1.61. Undoubtedly one of the best numbers of the decade. Not only is he one of the best creating separation from his coverage in the NFL but he also has one of the best completion percentages and what he generates after the catch is exceptional.
6.- Stefon Diggs – Buffalo Bills
This player is so good at everything that people just choose to ignore that there are no weaknesses in his game. He was right when he said the Vikings were using him below his capabilities and the moment he switched to a team that gave him 193 targets he did what he wanted with his opposing defenses. That season he led the NFL in receiving yards and it wasn't purely by volume as he was fifth in yards rushing.
Despite regressing slightly in 2021, Diggs continued to perform at a high level and post wins over the replacement.
7.- Ja'Marr Chase – Cincinnati Bengals
He's coming off one of the most dominant seasons in NFL history as a rookie receiver and all signs indicate he'll continue to grow as a WR. He was the second WR in the league that generated the most EPA per reception in 2021, completely improving the Bengals' offense and after the reception, the WRs who are better than him in the NFL are counted, having been seventh by route run; only Deebo Samuel generated more receiving yards than expected than he did.
All this was generated in his first year in the league at 22 years old, without a doubt it looks like the league will be dominated by Justin Jefferson and him, both with contracts that I project will be more than 35 million dollars per year.
Talented receivers with elite production, but doubts about their age/regression
8.- DeAndre Hopkins – Arizona Cardinals
What Hopkins has done for several consecutive seasons is just amazing and speaks volumes about the raw talent he possesses. Even last season when he was limited by injuries, he performed at a high level receiving seven of every 10 passes thrown at him.
Age is certainly an issue and we probably won't see the Hopkins who could easily break through double coverage, but we will see an effective DeAndre who continues to be a huge problem for opposing defenses.
9.- Allen Robinson – Los Angeles Rams
Last season he played as one of the worst WRs in the entire NFL and his level plummeted. While that may seem like a reason to drop him in these rankings, the reality is that outside of 2021, Robinson dominated the NFL three years in a row with subpar QBs failing to get the best of him. Especially in 2020, Robinson was Top 5 in virtually every stat including firsts and tens generated and forced tackle misses.
Though he won't be the same WR he once was, Robinson has plenty of talent to return to being a Top 10 NFL WR and a vital red zone weapon for the Rams.
10.- Deebo Samuel – San Francisco 49ers
In 2021 only Davante Adams and Cooper Kupp contributed more wins over replacement than this player and what he generated last season was beyond measurability. Anywhere you look, Samuel was up there as one of the best WRs in the league, always in the Top 3 in just about every stat, including running. Number one in the NFL in receiving yards, receiving yards, receiving yards running route, receiving yards over expectation. In everything else you can imagine he was stuck with Cooper Kupp.
In the running game measuring 57 RBs with at least 87 carries, only Rashaad Penny and Nick Chubb had more yards after contact per carry than Deebo Samuel, led the NFL in forced tackle misses per carry over Javonte Williams, Michael Carter and Josh Jacobs. Not only did he lead RBs in that, he also 16% of his carries were 10+ yards being number one in the league ahead of Rashaad Penny who had 10%, Miles Sanders, Dalvin Cook, Jonathan Taylor and Nick Chubb. who had 7%.
The only reason he's not in the top tier is because he's been injured every season except 2021 and it remains to be seen if he can stay healthy in 2022.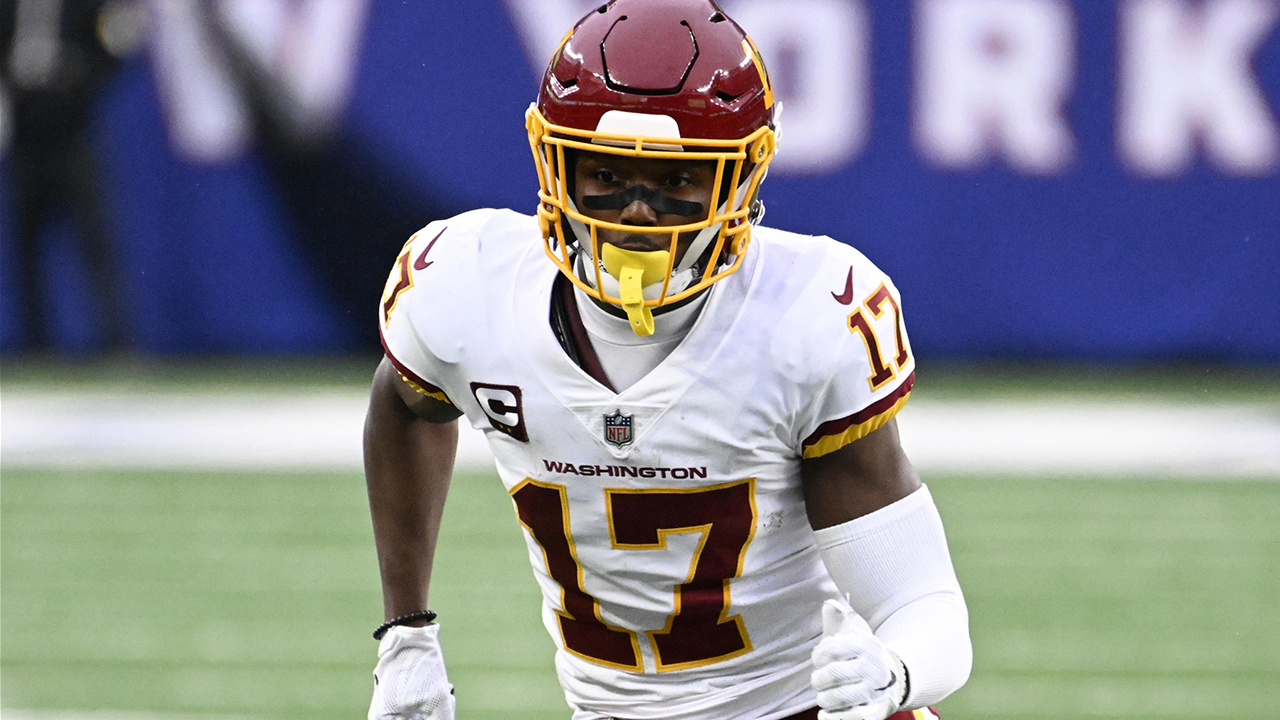 Youngsters with the potential to move up two tiers
11.- Terry McLaurin – Washington Commanders
Although statistically not in the top 11 in the league, McLaurin's impact on the NFL is truly great considering the QBs who have thrown the ball to him. A great way to isolate him is to see how many wins over the replacement he brings to his team and in the last two seasons he is the seventh most he has contributed averaging 0.38 per season.
12.- DK Metcalf – Seattle Seahawks
The way in which DK Metcalf can dominate opposing defenders with his imposing physique is something that deserves to be in the Top 12 of the best WRs in the NFL. As you can see from the chart, no matter what he faces, DK Metcalf is going to dominate and generate firsts and tens. As much as he's not the most polished road racer, what difference does he make if he wins every duel no matter how you want to defend him.
13.- Ceedee Lamb – Dallas Cowboys
Last season he took an impressive leap in level being one of the best separated from his coverage of the entire NFL and being within the Top-5 of WR with the most wins over the replacement going from 0.17 to 0.44, which is one of the best numbers in the league. With his ability to always be open and also produce big plays after the catch, this season should cement him in the Elite Tier.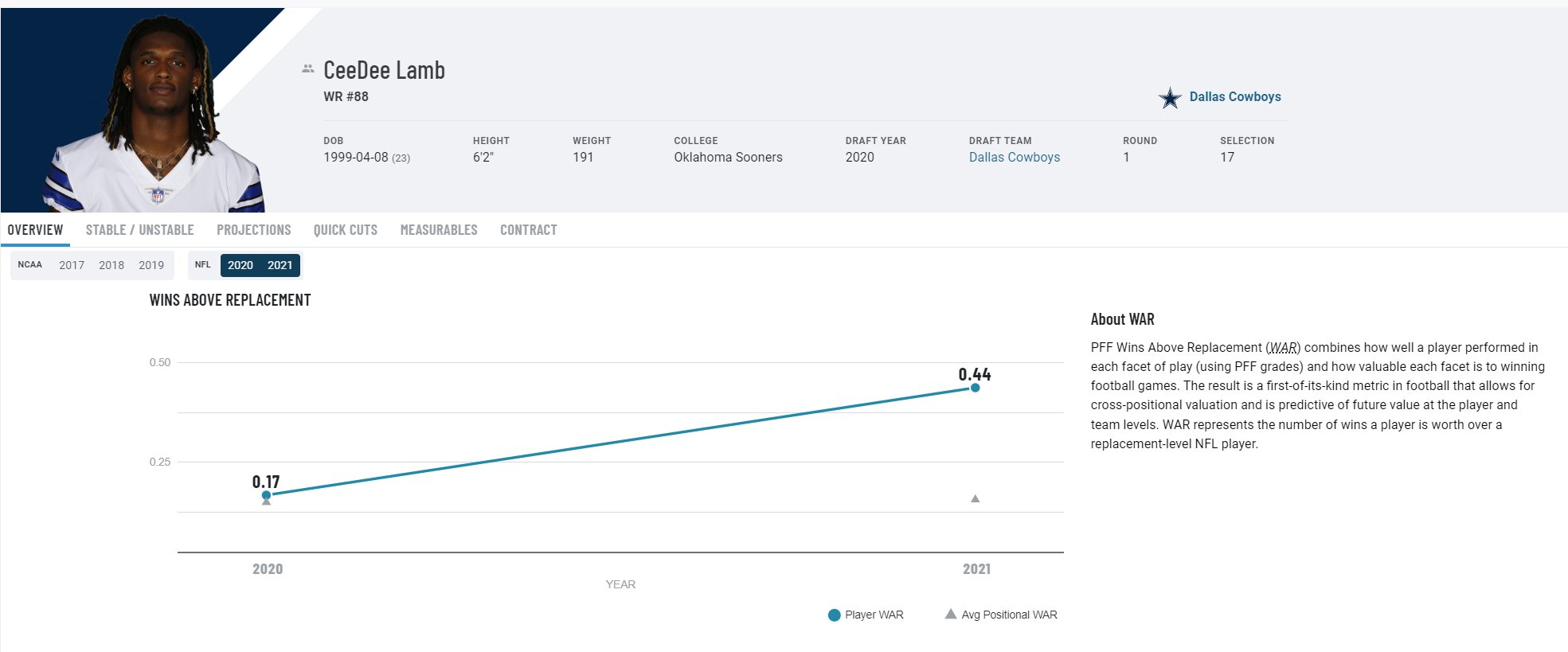 Graphic by PFF and Eric Eager
14.-Tee Higgins – Cincinnati Bengals
Last season he was the 17th WR in EPA for receiving, so if he can do anything, it's big plays. Where he stands out, and without a doubt he is among the top 15 in the league, is in the middle zone (10-19 yards) of the field where only Justin Jefferson and Cooper Kupp had more receiving yards than him. Also in this difficult area, this player led his team in firsts and tens.
Very good receivers WR with doubts of age
15.- Keenan Allen – Los Angeles Chargers
The talent for running routes and always being open to getting firsts and tens has been something remarkable in this very underrated player. The truth is that in 2021 he had a very worrying level drop that not many people noticed because of his high volume in the field and because of his great numbers that were quite dependent on him. This season, Allen had his second-worst career yardage rushing and worst post-reception yardage per receiving.
The talent isn't going anywhere, but this drop in level last season is worrying.
16.- Tyler Lockett – Seattle Seahawks
Without a doubt the best vertical weapon in the entire NFL and there should be no doubt about this since he was the WR who generated the most yards on long passes in 2021 and only Cooper Kupp had more yards running than him on this type of pass . Not only can he do this, he's also one of the best out there and his production has been exceptional the last two seasons.
The only doubt is that he enters this season already 30 years old and this can weigh heavily on a WR of his type.