In a conversation with Mujeres al Deporte, Macarena Miranda spoke with Desiree Soulodre, Vice President of the Chilean
In a conversation with Mujeres al Deporte, Macarena Miranda spoke with Desiree Soulodre, Vice President of the Chilean Golf Federationaround the "boom" that sport is experiencing in the country with the good performances on the PGA Tour by Joaquín Niemann and Mito Pereira.
"Clearly we are an elite sport and we want to get out of there, making it known. For that we want to interact with the community and for that we have many programs, trying to make it common for people and can understand what happens with "Joaco" and "Mito", "said the board, who explained the way in which they seek to add more people to golf.
"They come from a program called "Golf Action", which promotes the sport at a youth level. We started with little pilots, in agreements with golf courses, so that the children could play safely. Today we have over 200 children in those programs. We started taking golf to the squares of Quilicura, teaching the basic shots and in a playful way. When they take flight, we make agreements with the courts that are nearby, like with Pirque", Desiree Soulodre pointed out.
read also
Colo Colo player had to go in a police patrol to the hospital since the CDA did not have an ambulance

Wed 01 Jun 2022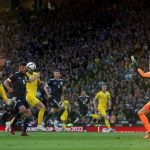 Ukraine achieved a tremendous victory against Scotland in Glasgow and will now seek a place in the World Cup in Qatar against Wales

Wed 01 Jun 2022
The programs of the Golf Federation for its massification
Apart from elements such as schools for boys and girls, or the implementation of the public golf course near the Mapocho Riverthere are also other programs for those who are motivated to practice this discipline.
"There is a program for beginners, with four classes in three days: one hour the first two days and an hour and a half the last day. If you get excited, we have a list of courts to play. There is access to practice easier than one thinks. In the beginners program we have a waiting list of 600 people", pointed out the vice president of the Chilean Golf Federation.
In addition, he raised the difficulties for more female golf players to emerge in Chile. "Little girls are harder to motivate. We need a social part that is very important, we have programs to enchant girls and keep them playing competitively. You have to put a group on women so that they can be entertained, but later they disappear for many years because of the family and it happens in all sports", he closed.